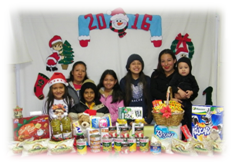 On December 16th, our students' families received a Christmas Food Basket. Some families struggled to get to school due to the rainstorm, and other families could not even leave their houses or walk through their streets because of mud and flooding, they received their Basket on the 19th. Whether the families received their Basket on the 16th or 19th, they were all grateful towards the sponsors who made it possible.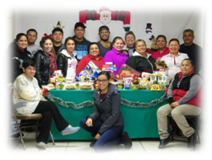 Our staff, even in the rain, was also thankful and happy to work in order to accomplish this goal for the 45th consecutive year.
During winter break, Mr. Mauricio Medrano, our repairman, worked on needed repairs to our school's building.
On January 4th, our students and staff went back to work with good news: one of our graduates will help our school by teaching 3 classes, his name is Guillermo Diaz Rios and he has a Bachelor's Degree in Education. We are always happy to see our graduates succeed in life and return to Panamerican Institute to give back what they received when they were teenagers.
Our job of helping students from the poorest families in Tijuana never ends; we continue to improve for them. Here are other ways you can continue to help:
Meals
Hungry students cannot learn! We have an average of 20 days of classes per month and our school schedule is 7:30am until 4:30pm.
$20 per month or $200 per year to provide daily breakfast at $1 each day.
$40 per month or $400 per year to provide daily breakfast and lunch at $2 each day.
$5 per month or $50 per year to provide a fruit snack at $0.25 each day.
Refrigerator
Our refrigerator is not working properly, and we need to keep our students' food fresh and healthy for them, it costs $1,500.
Computers
Our Computer Laboratory is 9 years old, and so are the computers. A computer's life span is between 3 and 5 years and even though we tried to repair them, they need to be replaced. Sponsors have donated 24 computers and now we only need 6 more, each costs $450.
Uniform shoes
At this time of the school year, students outgrow their school's shoes and need to buy new ones, each pair costs $30 for 1 student.
Bus fares to attend school
$30 per month or $300 per year.
School supplies
$500 per year to purchase school supplies for 12 subjects. Includes monthly replacement of supplies and ribbons for typing classes, paper and toner for printing in computer classes and for homework of other subjects.
At $10, $20, $50, $100, $500, $1,000 or any other amount you wish to donate.
Send your tax-deductable donation to
Panamerican Institute
P. O. Box 433872
San Ysidro, CA 92143